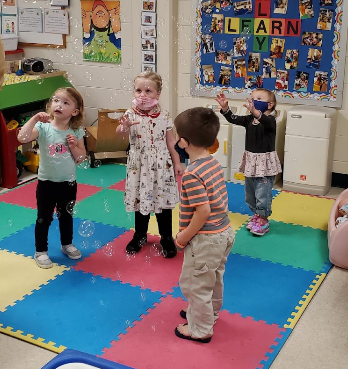 ECFE
Andie Franck
Friday, April 30, 2021
ECFE
Early Childhood Family Education (ECFE) is not only a great way to spend quality time with your children, but it's so much more! Designed to help support families in the parenting efforts of babies, toddlers and preschoolers, ECFE has a little something for everyone.
Early Childhood Family Education is based on the idea that parents are our children's first teachers, and they provide the first and most significant learning environment in our children's lives. We work with families to provide parenting education to support children's learning and development.
Available in all Minnesota public school districts, ECFE is open to families with children aged birth through kindergarten entrance, and provides quality learning opportunities and parenting resources to all who are enrolled. In ISD 108, we offer a variety of ECFE classes. Free baby classes are offered throughout the year for families with children aged birth through 1 year. Both nonseparation and separation classes for toddlers and preschoolers allow families to participate in developmentally appropriate hands-on projects and activities, while leaving the mess at school! As they work on projects and play together, parents have an opportunity to be truly present with their children during the first part of class. The second part of ECFE classes allow children to work on social and cognitive skills while parents and caregivers have time to discuss parenting concerns with other parents and staff. Topics such as sleep, separation anxiety, and backtalk and sassiness are just a few of the subjects parents have had a chance to dive into this year. The support that parents receive not only from our parenting facilitator, but also from other parents, helps make this journey of parenting just a little easier.
Throughout the year, ECFE also offers field trips and special one time events. A field trip to the Children's Museum, a school year kickoff at Lano Equipment, park meet-ups and a special December event are just a few of the special events that families have participated in.
At ECFE we strive to partner with you in your child's development. We offer both daytime and evening classes, and no family will ever be turned away due to inability to pay. We know parenting can be challenging, but at ECFE we hope you receive the support and education you need to do the best job at it that you can!
When asked why they attend ECFE, one family said, "[ECFE gives] interaction with new kids and adults for my daughter who doesn't go to daycare, creative and educational activities that I wouldn't otherwise come up with or do at home and other parents to learn from and relate to about the challenges of parenting and stages we are going through with our kids."
Despite this unusual year, we have had over 50 children and 36 families playing and learning in our various ECFE classes. We'd love to have you join us too! For more information or to see our class offerings, visit our website: District 108 ECFE