A Look into the Future
Central
Monday, April 05, 2021
I'm a firm believer in keeping the focus on what's really important: the students. If student motivation and higher engagement are truly what we want, we must adapt right along with our students in our classrooms.
To see that some classrooms look the same now as they did 70 years ago needs to be addressed. The students we share our classrooms with don't know life without constant connectivity, Wi-Fi, and a global audience. Outside the windows of our classrooms is a dynamic, fast-paced, and ever-changing world full of choices. How can we expect our students to solve problems and make choices independently if we constantly solve their problems and make their choices for them?
Our classroom environments should be conducive to open collaboration, communication, creativity, and critical thinking (the 4c's). This simply cannot be done when kids are sitting in rows of desks all day.
At the staff back to school welcome during workshop week in August, I put out a challenge to teachers to see if someone would be willing to try to redesign a classroom with a focus on the 4c's. Mrs. Schwalbach and Ms. Kriz accepted the challenge and, after a 3 month process, their rooms were revealed to their classes today.
Notice the walls aren't white. There are different spaces in the classroom for students to gather, comfortably, to work in small groups or individually. The teacher's footprint in the room is reduced significantly and all the tables are on casters so the room can be transformed into whatever it needs to be at a moment's notice . This is our future. Flexible rooms that adapt to the individual needs of each student so they can thrive!
Superintendent Schochenmaier
Ms. Kriz 9th Grade Math room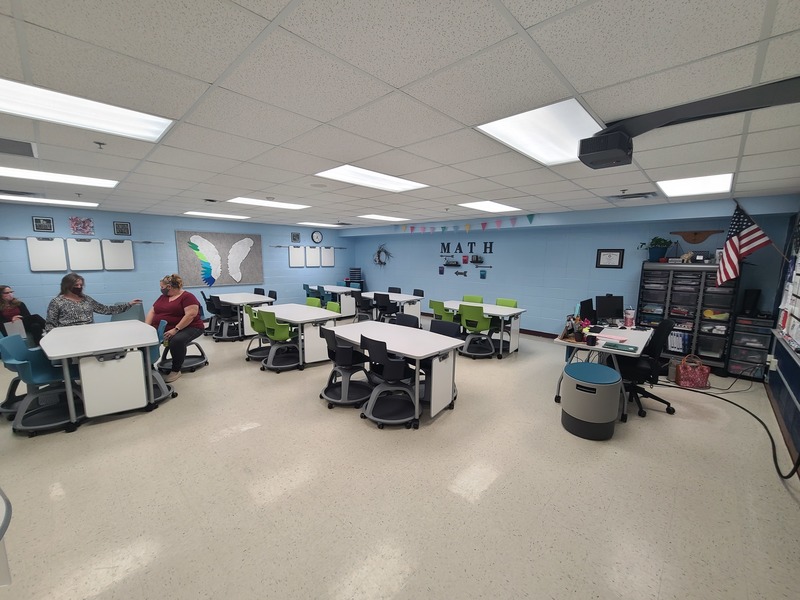 Mrs. Schwalbach 4th Grade Classroom